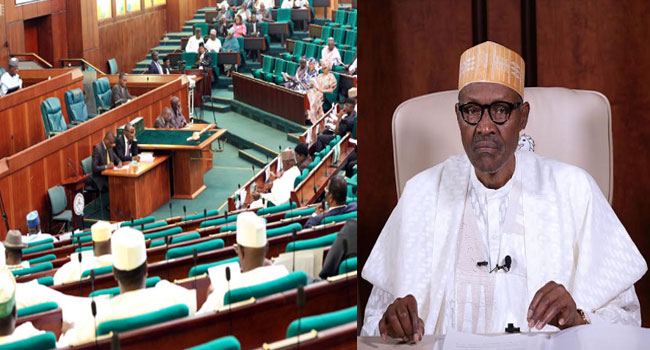 Lawmakers in the House of Representatives are debating a motion seeking the suspension of President Muhammadu Buhari's Executive Order 6.
The order seeks to restrain owners of assets under investigation from carrying out any further transaction on such assets.
The President on July 5, 2018, signed the Executive Order which will prevent any government official from engaging in corrupt practices such as misappropriation of State assets for personal gain, receive any form of bribe or engages in Corrupt Practices related to the performance of his/her duties.
Also any award or execution of Government contract; or transfers, launder or facilitates the transfer or laundering of proceeds of illicit activities, such official, in addition to forfeiting the proceeds in accordance with the relevant laws, shall forthwith be subject to the disciplinary procedure in accordance with the Public Service Rules and investigation by the Code of Conduct Bureau.
This provision is connected with persons listed in the First Schedule to this Order, or any such list as may be issued by the Attorney General of the Federation and Minister of Justice.
During plenary on Wednesday, the lawmakers called for an investigation into the constitutional compliance of all subsidiary legislation and executive orders by the executive arm of government.
According to the motion, sponsored by Hon. Nicholas Ossai, and supported by 27 other lawmakers, the Executive Order number 6 of 2018, signed by President Muhammadu Buhari appears to hijack and usurp legislative and judicial powers.
With the signing of the Executive Order 6, President Buhari is to clamp down on assets said to have been corruptly acquired by top government officials either directly or through their fronts over the years.
The Attorney-General will frequently publish a list of all Assets protected pursuant to this Order.
The decision has, however, attracted criticisms from some Nigerians who questioned its constitutionality.