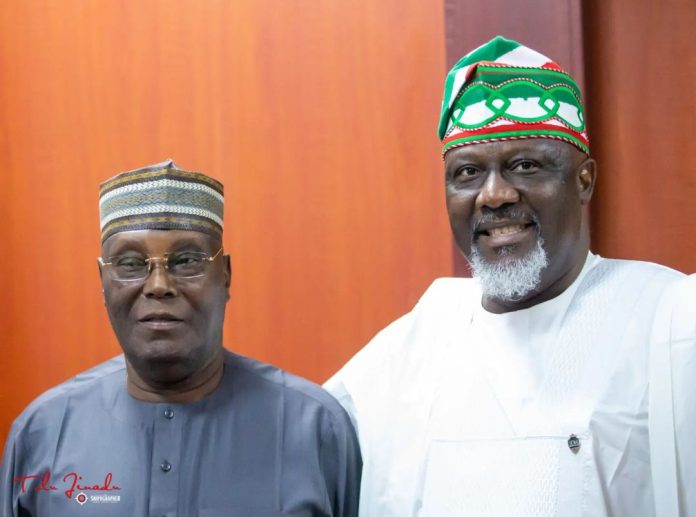 Multiple sources told Penpushers that the Atiku/okowa campaign has dolled out billions of Naira to some selected stakeholders and members across the country to be used as mobilization fees ahead of the upcoming elections.
Dino Melaye in his dual capacity as both the spokesman and the director of mobilization of the campaign has been nominated to lead the distribution in the Northern part of the country.
"Recall that earlier this month Abuja Network News had reported how Dino Melaye and some key PDP stakeholders smuggled a whooping N50 billion new Naira notes out of the CBN coffers.
Independent investigation by an Abuja based media  platform later discovered  that the money was part of a N120 billion Naira credit facility belonging to Delta State Government. And how the money was meant to be shared to some key Northern states.
It was against the backdrop that the director general of the campaign and sokoto state Governor Aminu Tambuwal was said to have accused Dino of using his office to corruptly enrich himself from the campaign funds.
Tambuwal was reported to have informed the Presidential candidate and some major stakeholders how figures and some bank documents in his possession shows that Dino Melaye has diverted some of the funds for personal use.
It was also reported that some key northern stakeholders who were suspected to have benefited from the largess and some that have interest in the Atiku Presidency were doing everything possible to calm nerves and keep the issue undisclosed until after elections.
But sources close to Tambuwal says he is adamant in probing the allegations and making sure that Dino is not allowed to handle any fund disbursement during the elections to avoid a repeat of the said incidence.
Dino Melaye on his part was said to have denied the allegations and blamed Tambuwal of trying to tarnish his hard earned reputation